Please consider supporting Janet's re-election campaign in 2022! You can help by: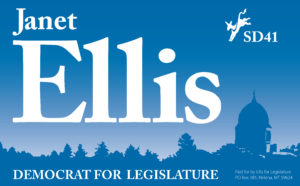 Donating. To win in 2022, Janet will need your support! The maximum individual donation is $400. Please consider making a donation–$400, $200, $100, $50–or whatever you can afford.
There are two ways for you to donate:
Mail a Check. Checks for Ellis for Legislature can be sent to PO Box 385, Helena, MT  59624.
Volunteering. We need your help with mailings, displaying yard signs, and other outreach efforts. Email me if you want to volunteer.
Contacting Janet. As a Montana Legislator, she needs to hear from you! Please contact her about issues you care about.
Thank you! Your support means a lot to Janet, her friends and family, and all her supporters!