FORUMS, DEBATES, and OTHER APPEARANCES:
November 8, 2021: An election night party is being planned. Below are the details: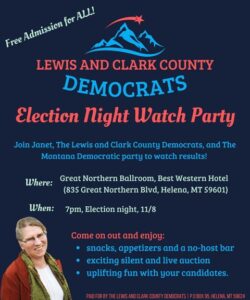 September 20, 2022: Janet appeared at a Voices of Montana Tourism event at the Great Northern Hotel.
FUNDRAISING EVENTS:
NOTE: The meet and greet/fundraisers at Derf Johnson's and Jill Feldhusen's house (June 21), Terry Cohea's house (July 20), and Mark Aagenes and Kerry Hales's house (September 15) were GREAT successes!