FORUMS, DEBATES, and OTHER APPEARANCES:
Thursday, September 29: Hometown Helena Candidate Forum. 7:00 am. Details to follow.
Wednesday, October 5: Unfortunately, the League of Women Voters Forum was cancelled. Instead, a questionnaire has been sent to all candidates.
FUNDRAISING EVENTS:
Currently we have one fundraising event scheduled:
Thursday, September 29, 2022: This event at The Creperie in downtown Helena is a joint fundraiser with fellow women legislators. See the invitation below. Spread the word! And PLEASE COME support the campaigns of Democratic Women in the area! (NOTE: unfortunately, the links do not work on the invitation below. If you want to donate on-line, you can access all candidates at https://secure.actblue.com/directory/MT).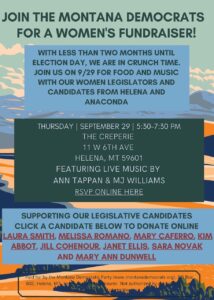 NOTE: The meet and greet/fundraisers at Derf Johnson's and Jill Feldhusen's house (June 21), Terry Cohea's house (July 20), and Mark Aagenes and Kerry Hales's house were GREAT successes!