Currently Janet is NOT running an election campaign. Since she is now serving a 4-year term in the Montana Senate, she does not need to run for reelection until 2022.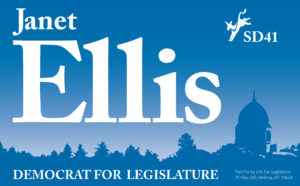 NOTE: we will be looking for donations, volunteers, and endorsements again in 2022!
Between elections, please consider:
Contacting Janet. As a Montana Legislator, she needs to hear from you! Please contact her about issues you care about.